Nexstim has developed a world-leading non-invasive brain stimulation technology called SmartFocus®. It is a navigated transcranial magnetic stimulation (nTMS) technology that enables individual treatment and diagnosis of patients with severe brain diseases and disorders.
In transcranial magnetic stimulation, pulses of electromagnetic fields target and interact with specific brain regions from outside the head. SmartFocus® is the only truly personalized navigated TMS commercially available. It allows stimulation to be given with accuracy and precision in the millimeter range based on each patient's unique brain. Nexstim's technology is used in both neurosurgical diagnostics, as well as in depression and pain therapy. Over 220 systems for diagnostic use and over 70 systems that include therapy functionalities have been delivered to facilities worldwide.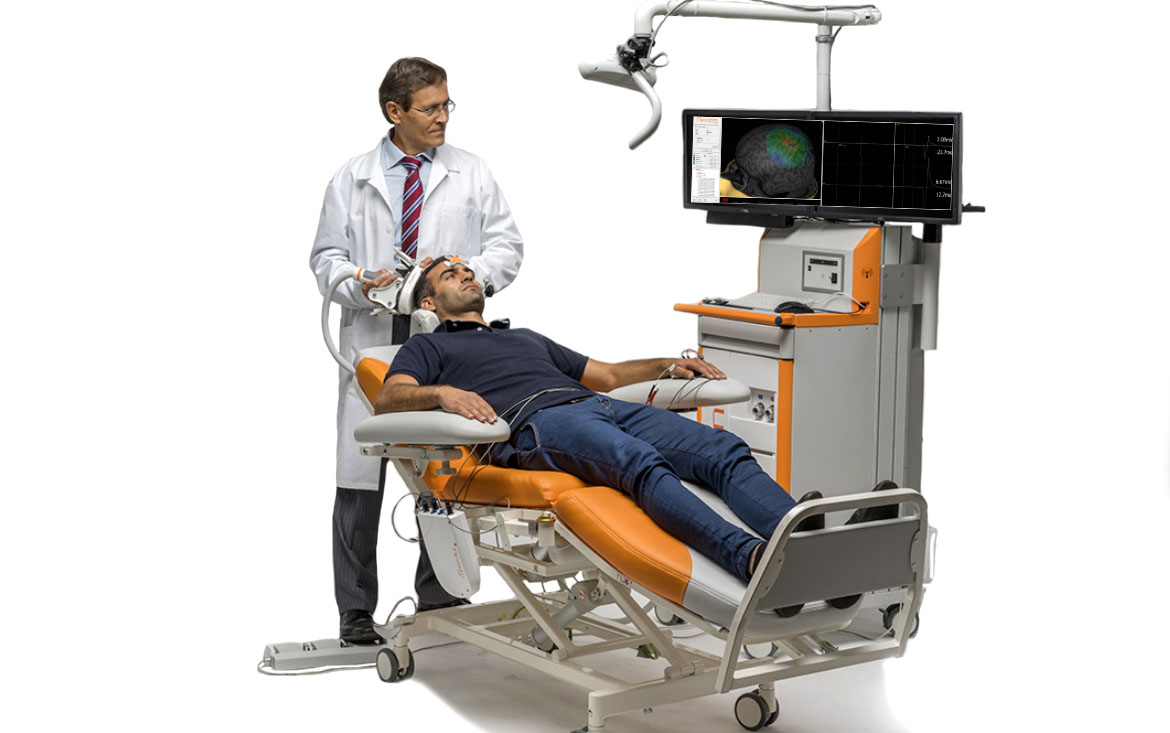 One of the most crucial pieces of information needed for neurosurgery is the tumor's or other brain lesion's location in relation to the essential functions and their connections in the patient's brain.
SmartFocus® nTMS mapping with Nexstim's NBS (Navigated Brain Stimulation) 5 system is used when the tumor is thought to be close to important motor and language areas in the patient's brain. SmartFocus® brain maps are useful when deciding the treatment option.
Key authority approvals:
FDA approved for presurgical mapping of the speech and motor cortices of the brain.
CE marked for presurgical mapping of the speech and motor cortices of the brain.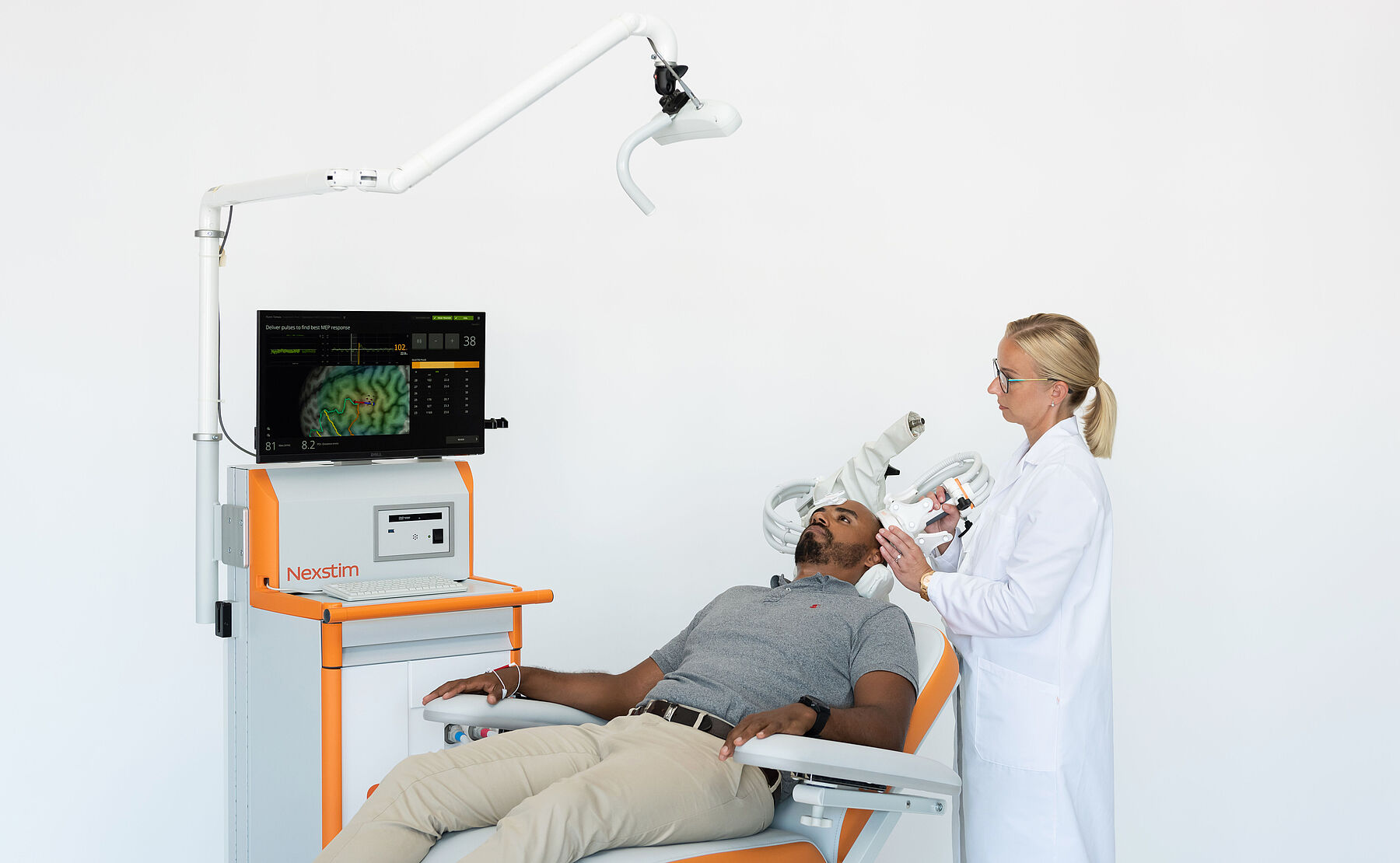 If pharmaceuticals are not working or a non-drug option is wanted, SmartFocus® nTMS conducted with Nexstim's NBS system 6 might be the answer for treatment of major depressive disorder or for chronic neuropathic pain.
It is important that TMS targets consistently the right location in the patient's brain. We at Nexstim use the latest science – 3D brain imaging and proven navigation of the TMS – to be able to personalize the stimulation target and level for each patient and their unique brain anatomy.
Key authority approvals:
FDA approved for the treatment of major depressive disorder
CE marked for the treatment of major depressive disorder and chronic neuropathic pain.
Customers have the possibility of acquiring a system that has either diagnostic or therapy functionalities, or a system combination that enables the delivery of both applications in the same system.
Summary of CEO Statement H1 2023
"During the first half of 2023, we have especially focused on projects that are crucial for the company's strategic competitive advantage, such as improving the company's cost efficiency through our new global team structures and the launch of our new NBS 6 system in both the EU and US markets. In line with our main strategic objective, we have continued to focus on profitable net sales growth, still targeting a positive EBITDA for the full financial year 2023, while minimizing future capital needs. To ensure this positive profitability development, during January-February 2023 we conducted change negotiations within the company as part of the transition to a global process organization, which will enable us to continue to serve Nexstim's customers better and more efficiently and deliver growth in long-term shareholder value. The therapy application areas we have chosen (MDD, severe depression and chronic pain) are indications where our unique technology is already delivering clear clinical results and contributing to the profitability of our customers' operations. We are also continuing discussions on new strategic partnerships to further scale the use of our technology in care.
In H1 2023, we achieved total net sales of EUR 2.5 (6.8, comparative 3.3) million, a decrease of 63.1%. Most of the decline in net sales was due to a one-off license fee of EUR 3.5 million for a technology license agreement included in the net sales for the comparative period. In addition, net sales for the comparative period H1 2022 included backlog of orders for systems valued approx. EUR 1.0 million received for the Diagnostics and Therapy business during the previous year 2021. Despite the decline in net sales, we are pleased with the high level of our adjusted comparable gross margin, driven by the favorable development of our sales prices and the success of key hardware component purchases in the current inflationary environment. We can also be pleased with the decrease in both personnel and other operating expenses, achieving savings of approximately EUR 0.5 million compared to the comparative period. We believe these will help us achieve a positive EBITDA for the second half of the year and full year 2023 results.
Our second key strategic goal for 2023 is launching the new NBS 6 product, enabling easy-to-use systems and the use of future additional modules in the same system. The launch and development of the new product generation is an essential part of Nexstim's operations during the 2020-2024 strategy period. The NBS 6 is a combined system that has been built on Nexstim's unique, clinically established technology. The modular product design allows for an expansion of system capabilities over time. The new solution creates long-term value for Nexstim's customers and investors. The first release in April-May concerns therapy applications. Nexstim's Therapy business markets and sells the NBS System 6 system, which has FDA marketing and distribution approval for the treatment of major depression in the United States. NBS System 6 is also CE-approved in Europe for use in the treatment of major depression and chronic neuropathic pain. Nexstim unveiled the NBS 6 system at the Clinical TMS Society 11th Annual Meeting, held in Colorado Springs, Unites States on May 4 – 6. and our sales opportunities for the product have developed favorably since then. We are prepared for the first customer orders and deliveries to happen during the second half of 2023.
Our third key strategic goal for 2023 is expanding the network of Nexstim exclusive collaboration clinics primarily in the USA and Europe. This would mean installing Nexstim systems in neuroscience centers, in line with our revised strategy, mainly in cooperation with our partners. Our new partnerships focus on strategic investments in service organizations, especially on the vast US market, but partnerships are also possible to make targeted investments in the European market. We are currently involved in negotiations with several potential partner clinics in both the United States and Europe, and we are working hard to grow our network.
Despite the international tension, our outlook for the end of the year 2023 continues to be positive. At Nexstim, we purposefully continue our work to enable personalized and effective therapies and diagnostics for challenging brain diseases and disorders. We strongly believe that our work supports the growth of shareholder value over the long term, in the form of stronger competitive advantages, rapid growth, and better financial performance."
Mikko Karvinen, CEO
Page last updated: 28 August 2023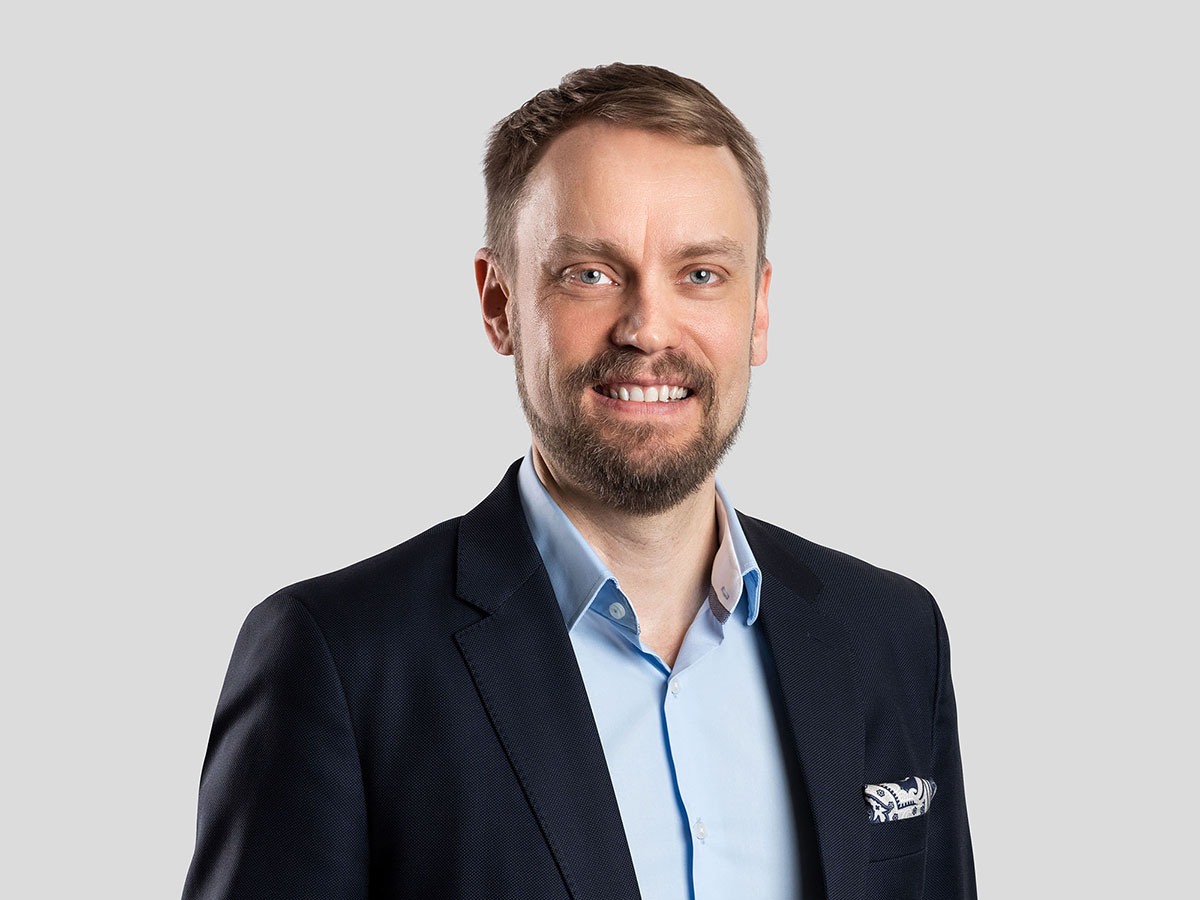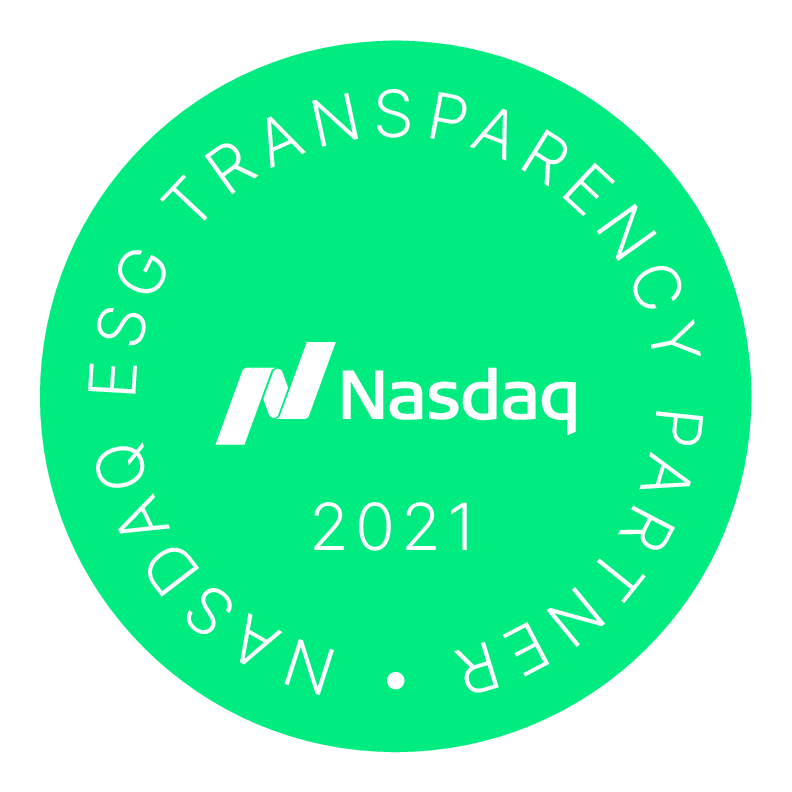 More Information for Investors